vue.js is a progressive JavaScript Framework that focuses on building user interfaces. It is very small and light weight compared to other more complex front-end frameworks like AngularJS, Backbone.js and another kind of javascript frameworks. vue.js Very simple to use and easy to get started.
It is important to know that it can do anything with the user interface, it doesn't care about the model or database. It was designed from the ground up to be incrementally adoptable. This makes it very easy to integrate into an existing project. At the same time, it is strong enough to build powerful single page applications.
When compared to other frameworks, vue.js has its own pros and cons. The main advantage is that it is very light weight and easy to use. vue.js doses score higher in some benchmarks when comes to performance. vue.js offers us to build reactive interfaces. It also provides a large set of directives. Data binding, template logic, event handling and much more.
See also : 100+ Useful Angular JS Tools for Developers
In this post, we present you some useful vue.js frameworks to help you build your applications much faster.
AT UI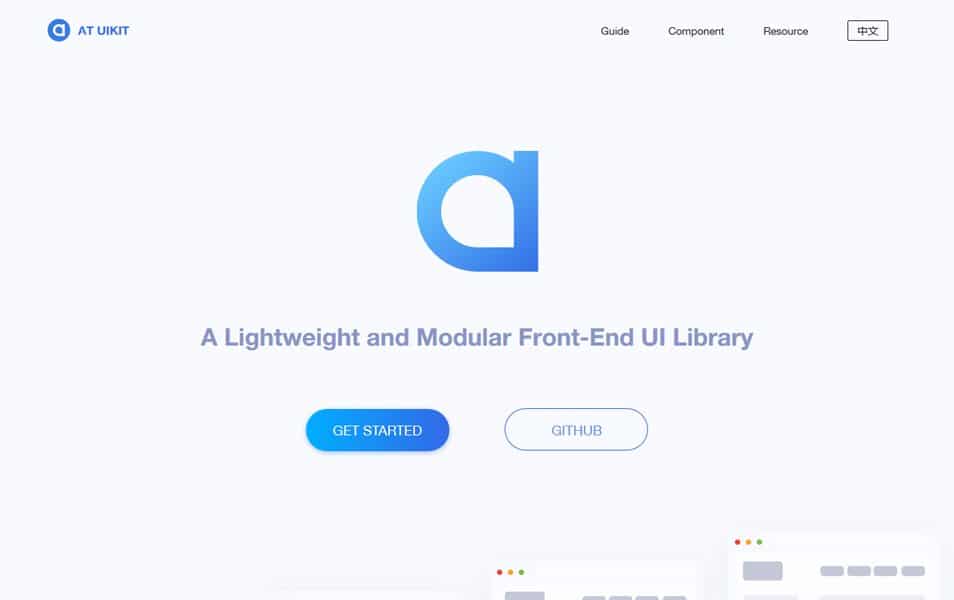 AT-UI is a modular front-end UI framework for developing fast and powerful web interfaces based on Vue.js.
Telescope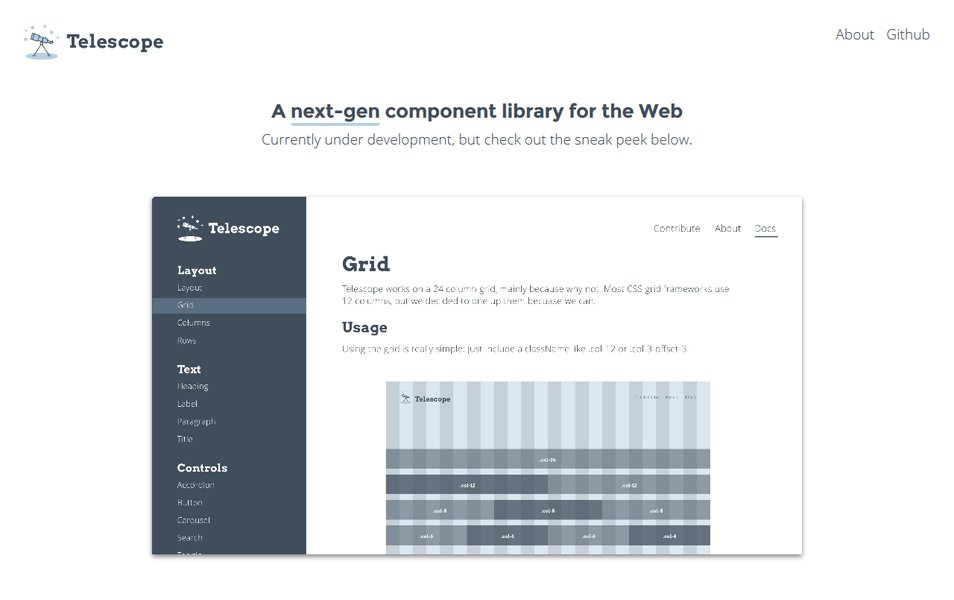 A light-weight component UI framework for Vue.js.
Nuxt.js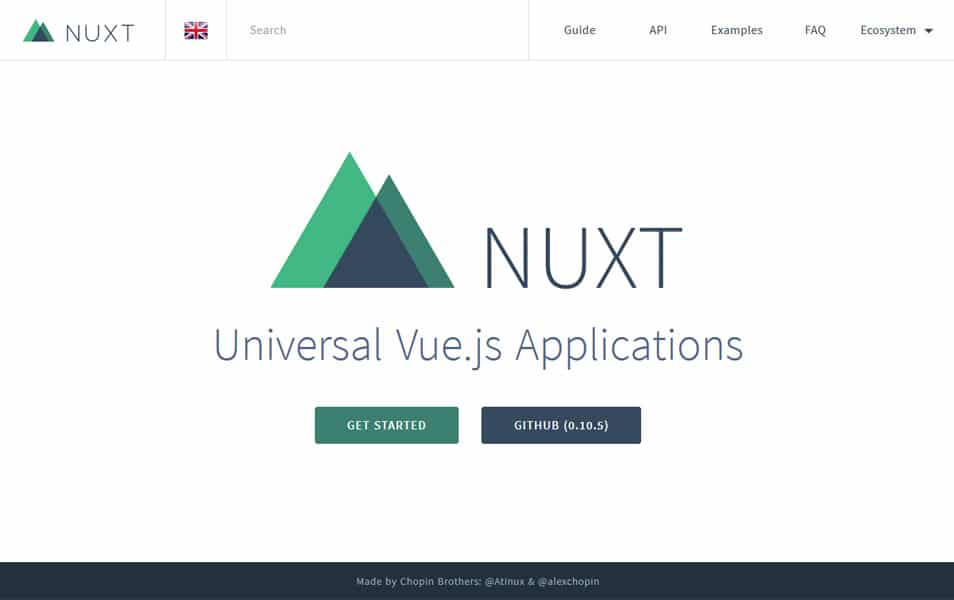 Nuxt.js is a framework for server-rendered Vue applications.
Vue Admin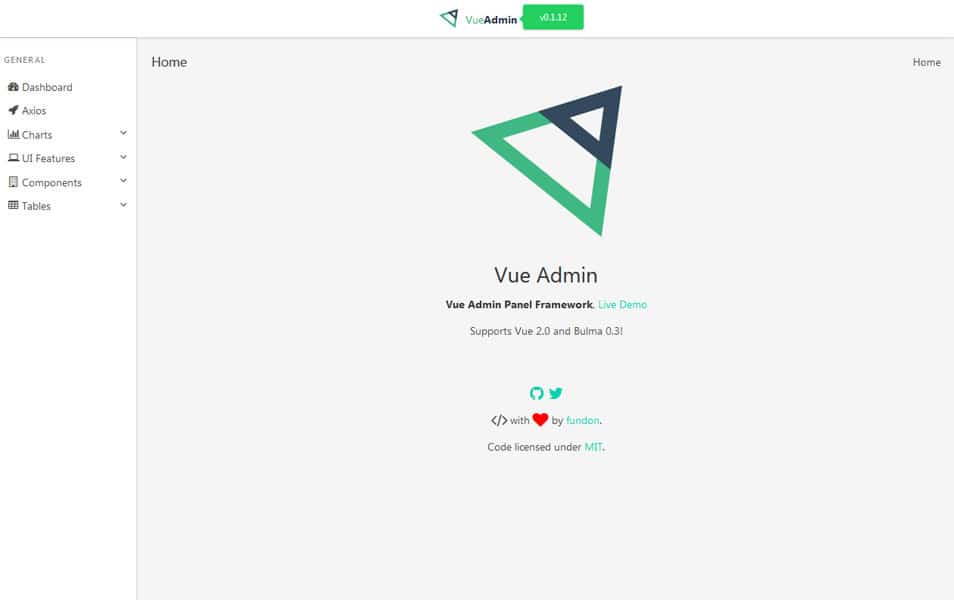 Vue Admin Panel Framework, Powered by Vue 2.0 and Bulma 0.3
Element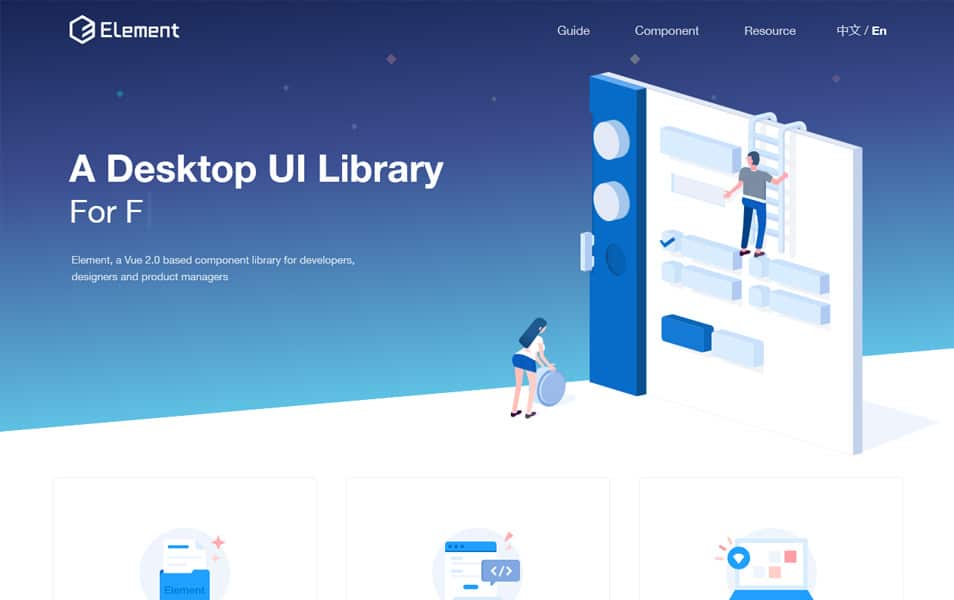 Element is a Vue 2.0 based component library for developers, designers and product managers.
Vuetify.js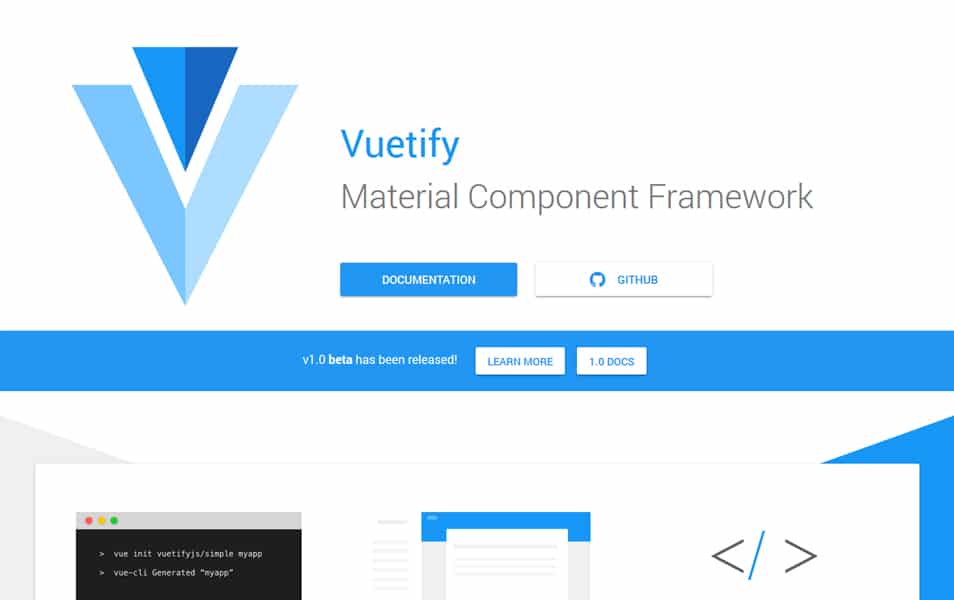 Vuetify.js is a reusable semantic material component framework for Vue.js 2. It aims to provide clean, semantic and reusable components.
Quasar Framework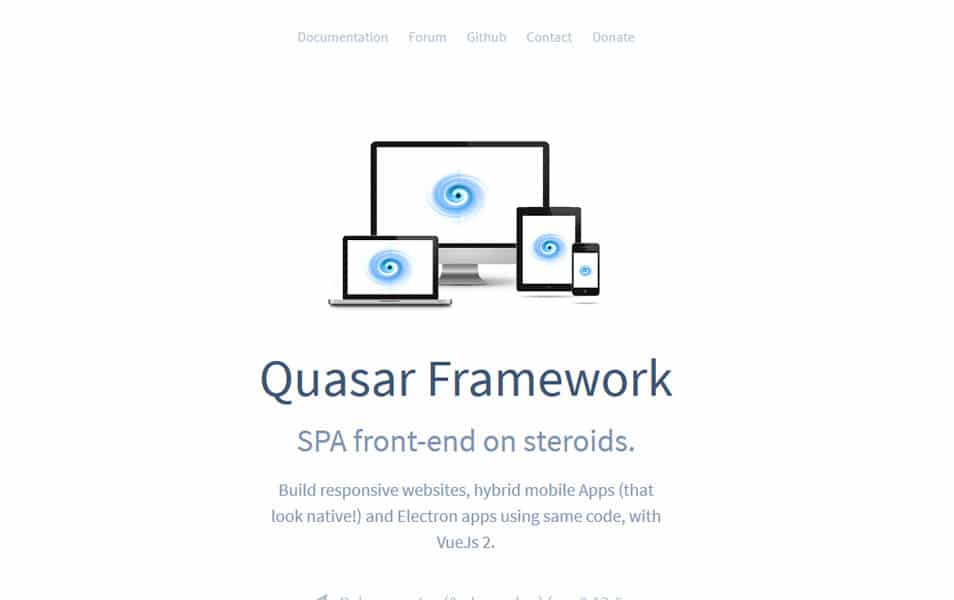 Build responsive websites and hybrid mobile Apps (that look native!) using same code, with VueJs 2.
BootstrapVue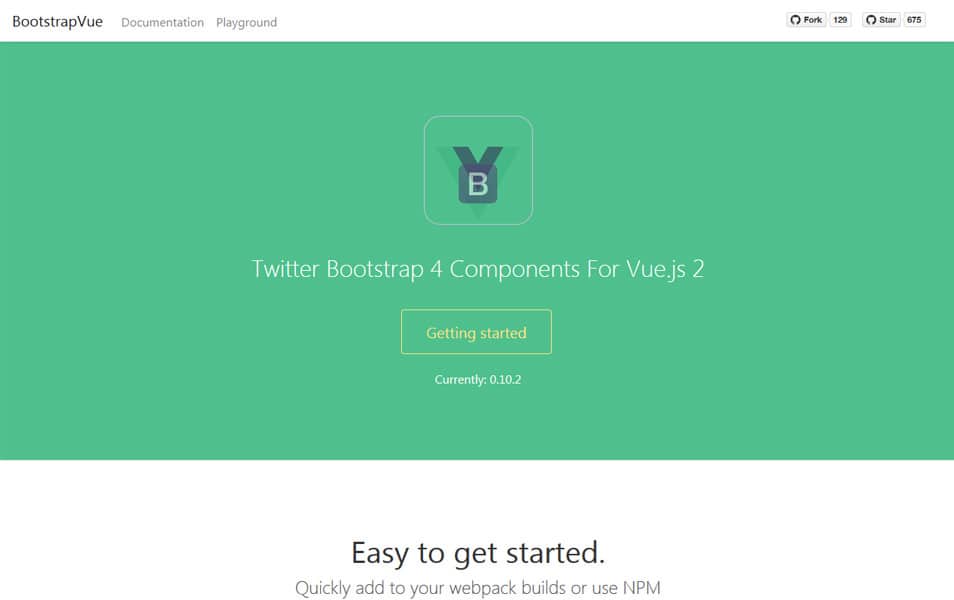 Bootstrap 4 components for Vue.js 2.
Onsen UI for Vue 2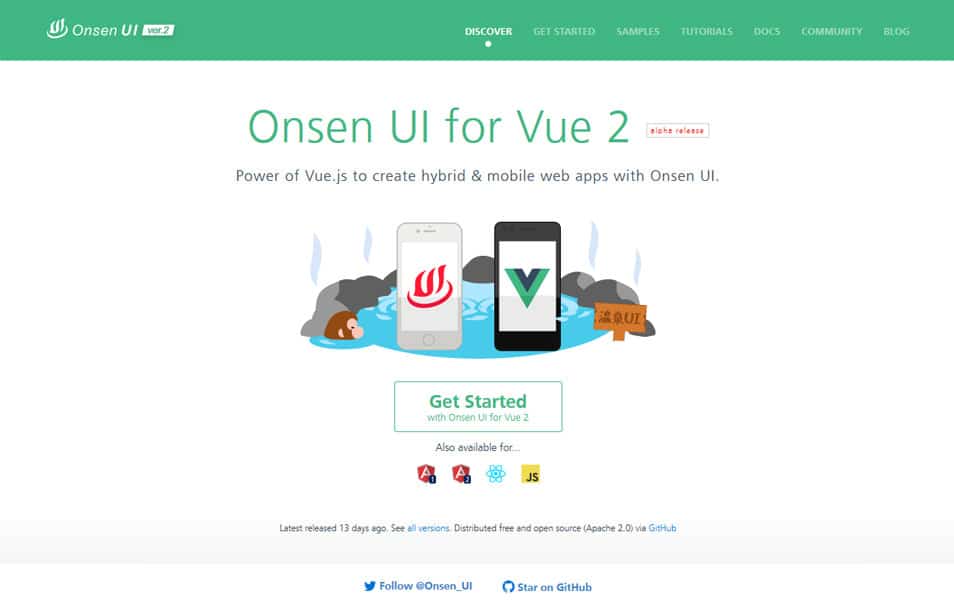 Onsen UI is a library of UI components to help you create beautiful hybrid and mobile web apps for both Android and iOS using Javascript.
Vue Material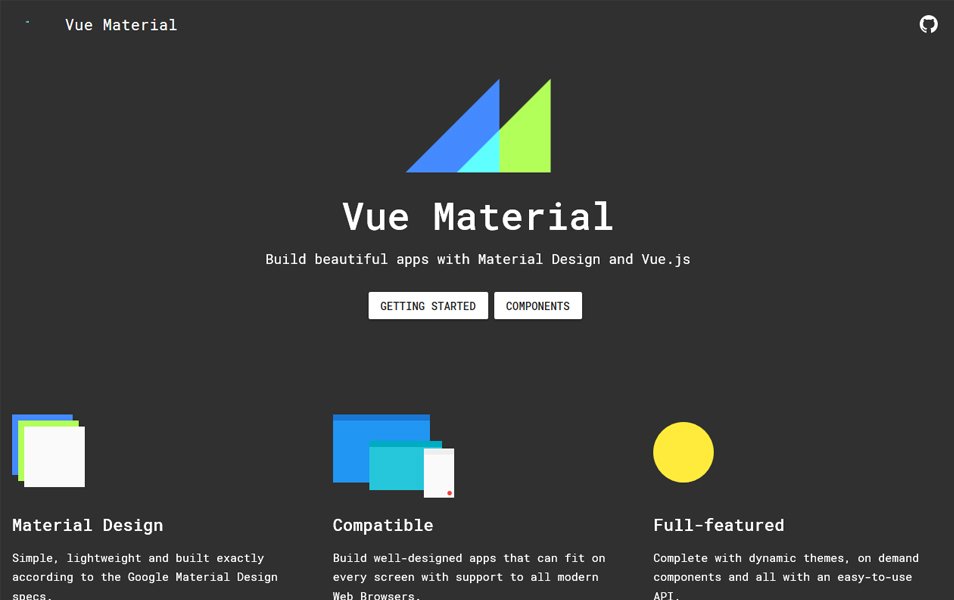 Vue Material is Simple, lightweight and built exactly according to the Google Material Design specs. Build well-designed apps that can fit on every screen with support to all modern Web Browsers with dynamic themes, components on demand and all with an ease-to-use API
Mint UI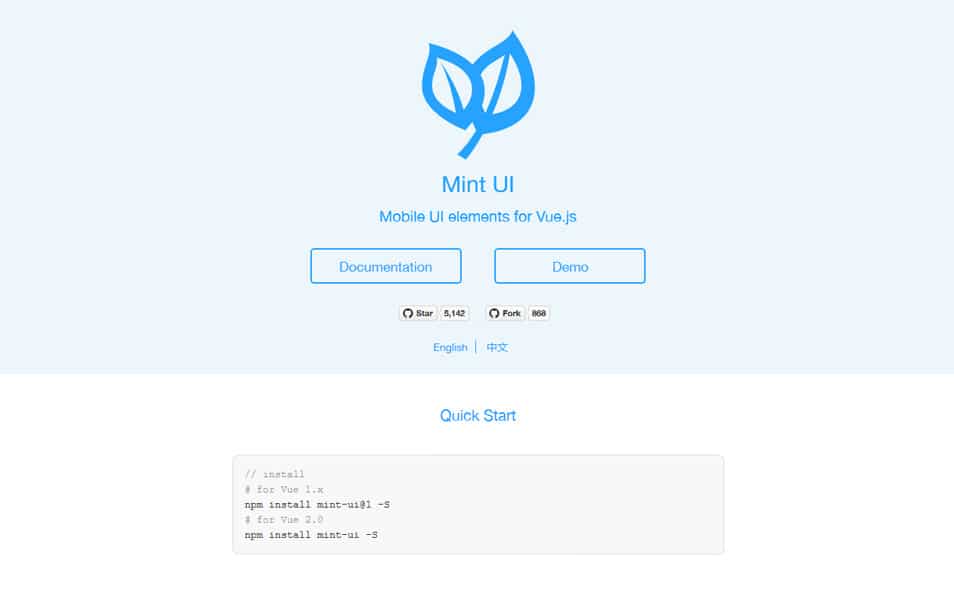 Mobile UI elements for Vue.js
Framework7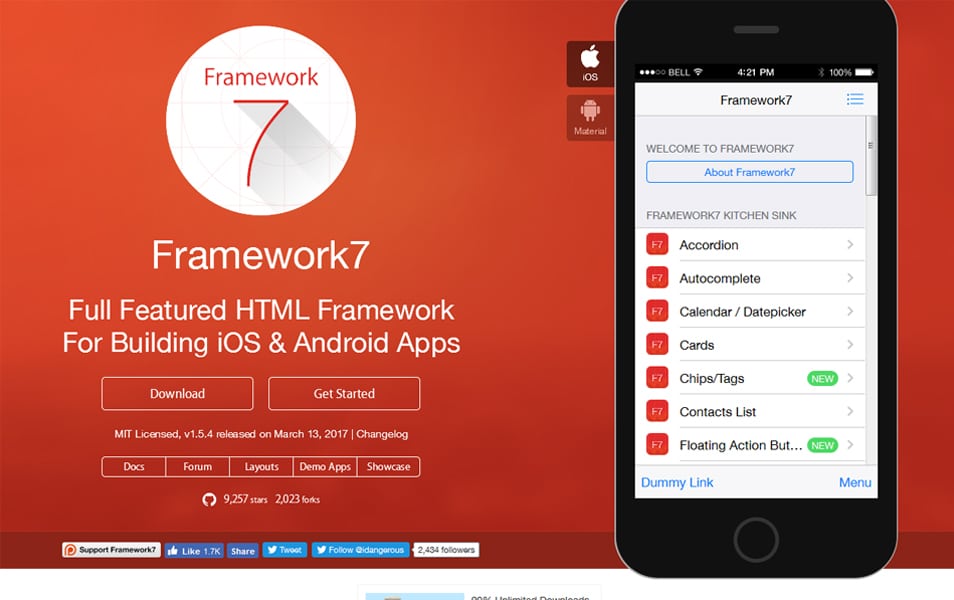 Framework7 is a free and open source mobile HTML framework to develop hybrid mobile apps or web apps with iOS & Android native look and feel. Bring components-syntax, structured data and data bindings to Framework7 with power and simplicity of Vue.js
Weex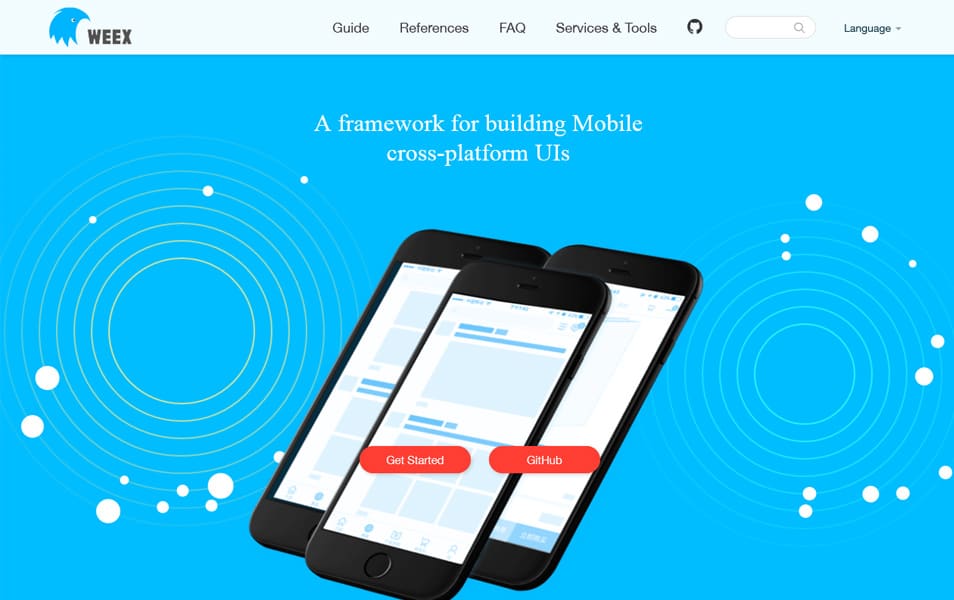 A framework for building Mobile cross-platform UI.
Muse-UI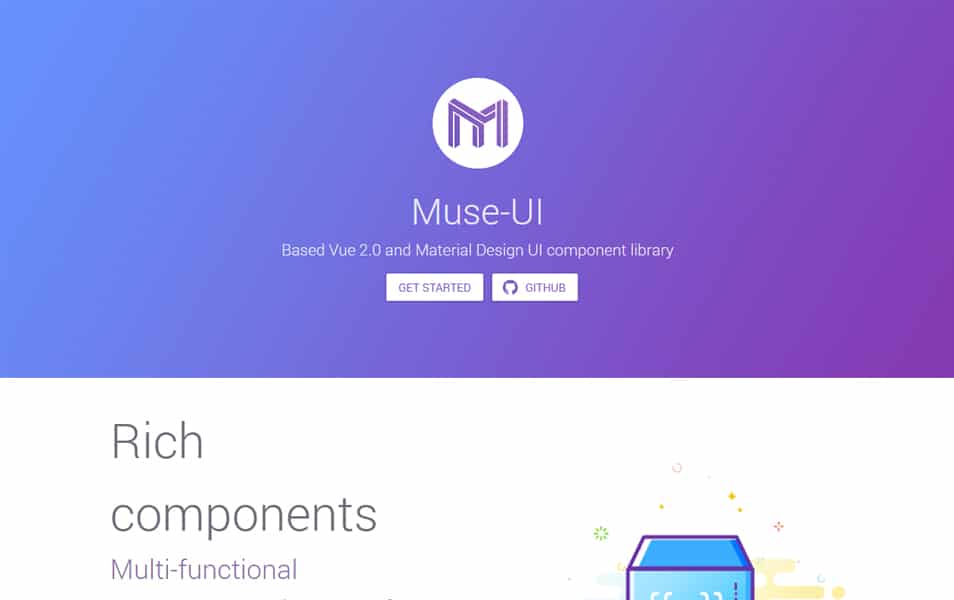 Material Design UI library for Vuejs 2.0.
Vux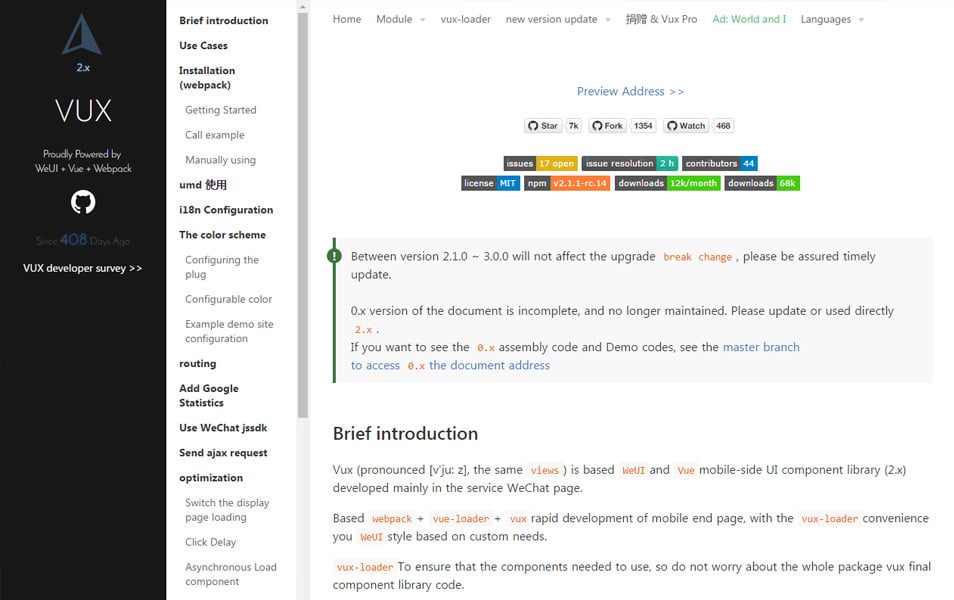 Vue UI Components based on WeUI.
Eagle.js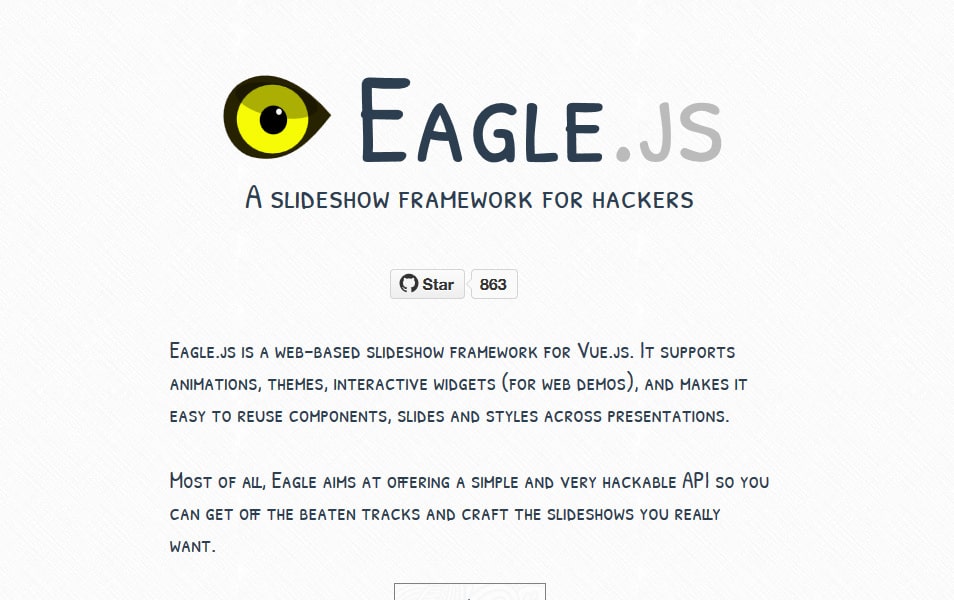 Eagle.js is a slideshow system built on top of the Vue.js web framework.
Buefy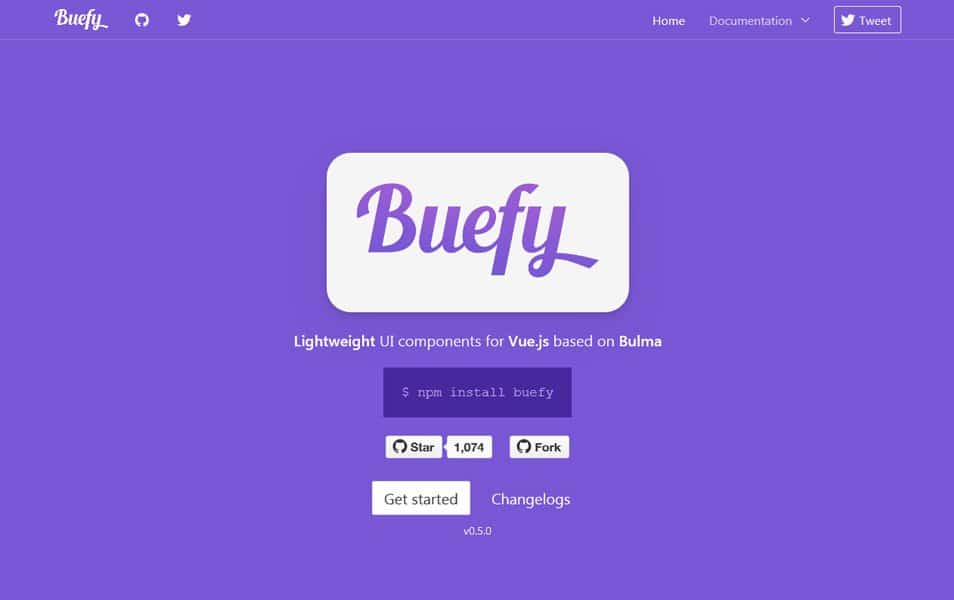 Buefy is a lightweight library of responsive UI components for Vue.js based on Bulma framework and design.
Vulma
This is a Vue UI component library based on Bulma.
iView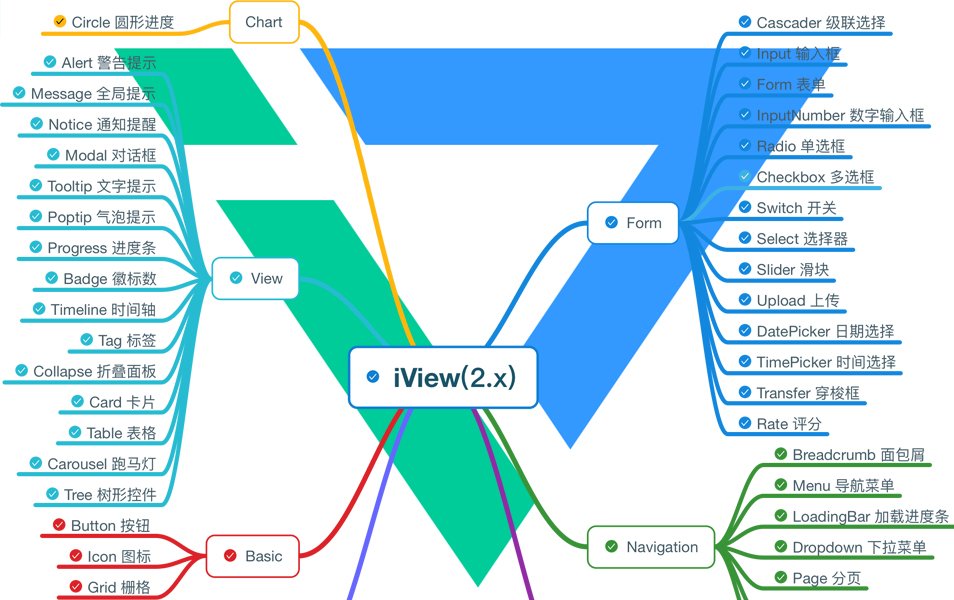 A high quality UI Toolkit built on Vue.js
Vue MDL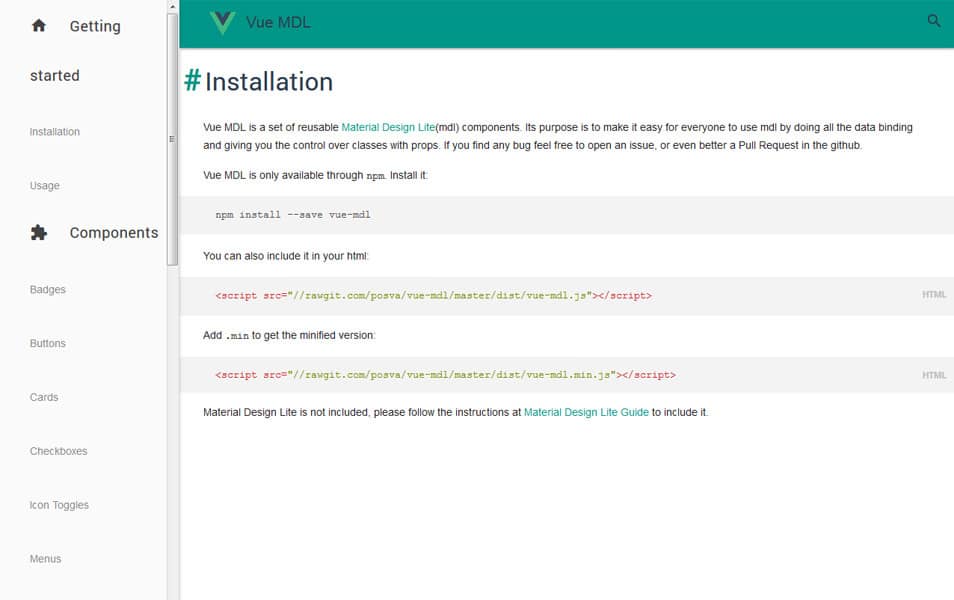 Reusable Material Design Lite components for Vue.js
Keen UI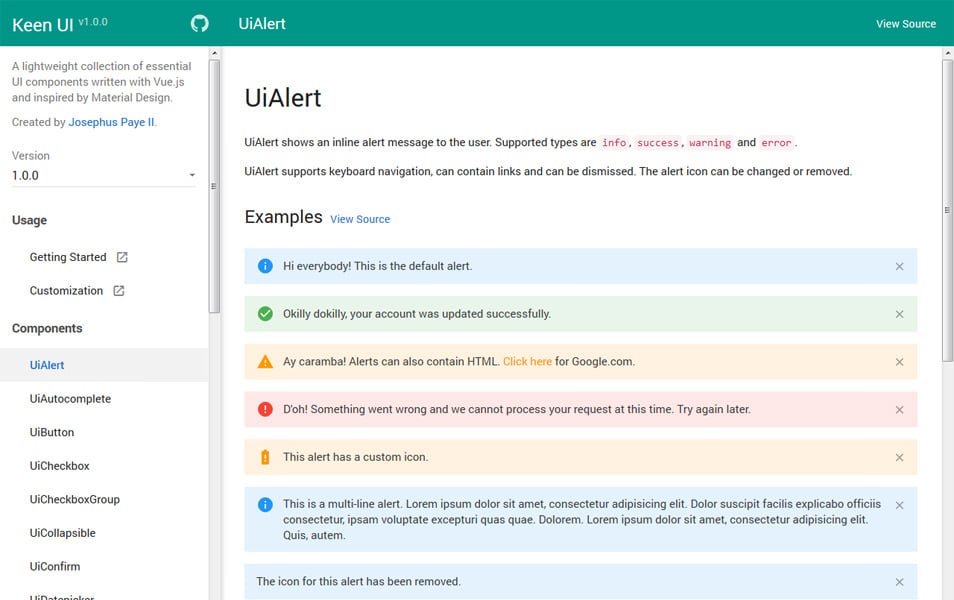 A lightweight collection of essential UI components written with Vue and inspired by Material Design.
Vuikit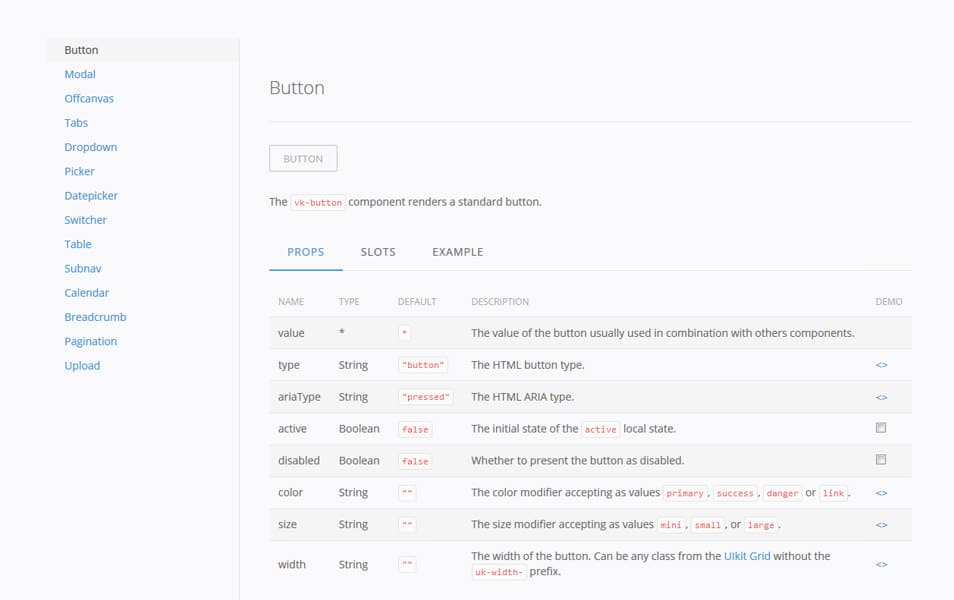 While it is possible to use UIkit by its own when building Vue components, you may find yourself relying on too many dependencies and building a wrapper to fill the missing logic gap. Vuikit solves all that by providing native, unopinionated, components outputting UIkit layout.
uiv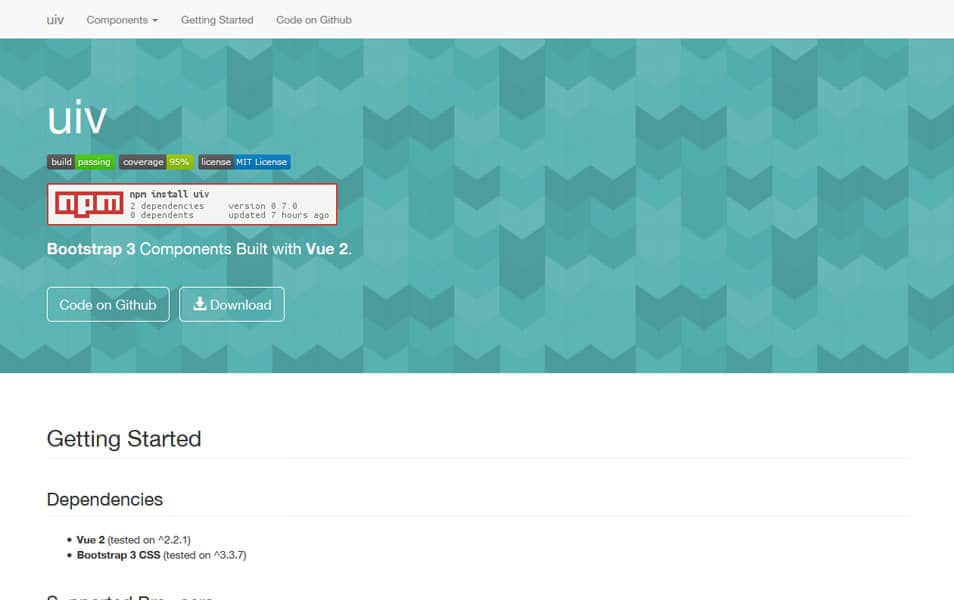 Bootstrap3 components implemented by Vue2.
App Framework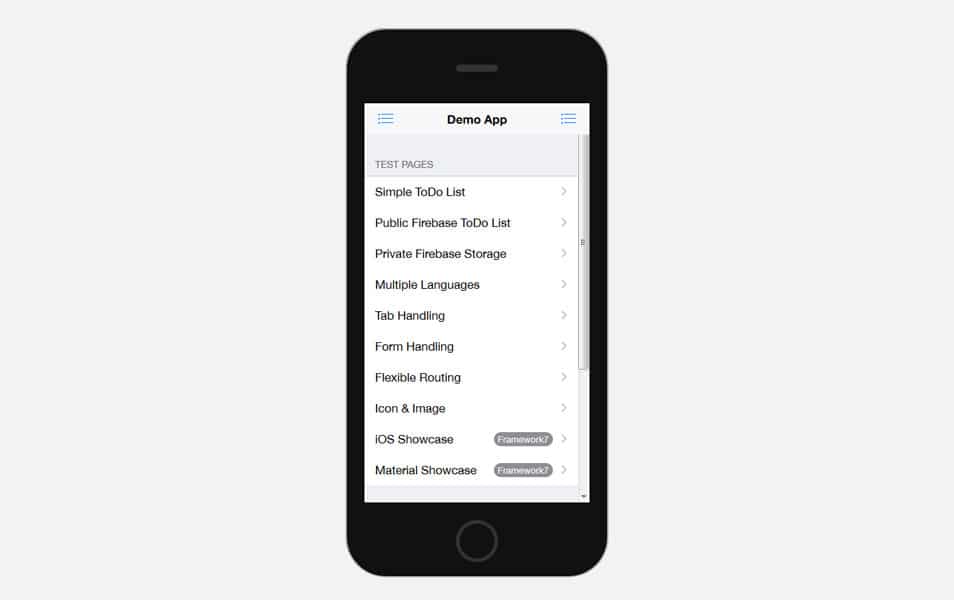 iOS and Android Apps with HTML & JavaScript – develop, build and deploy – free and open source!
Vue Blu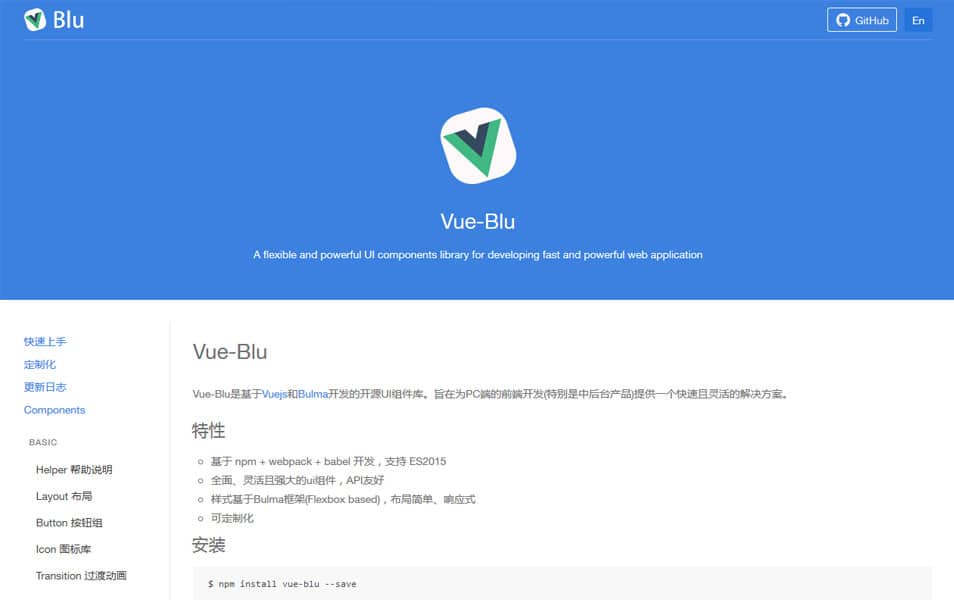 A flexible and powerful UI components library for developing fast and powerful web application.
VUM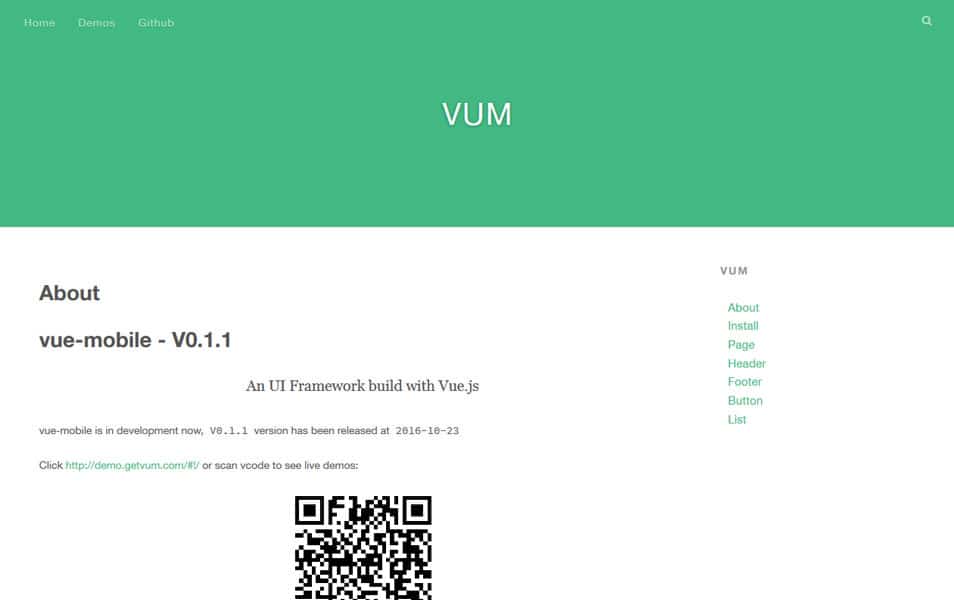 An UI Framework build with Vue.js for mobile webapp.
Ream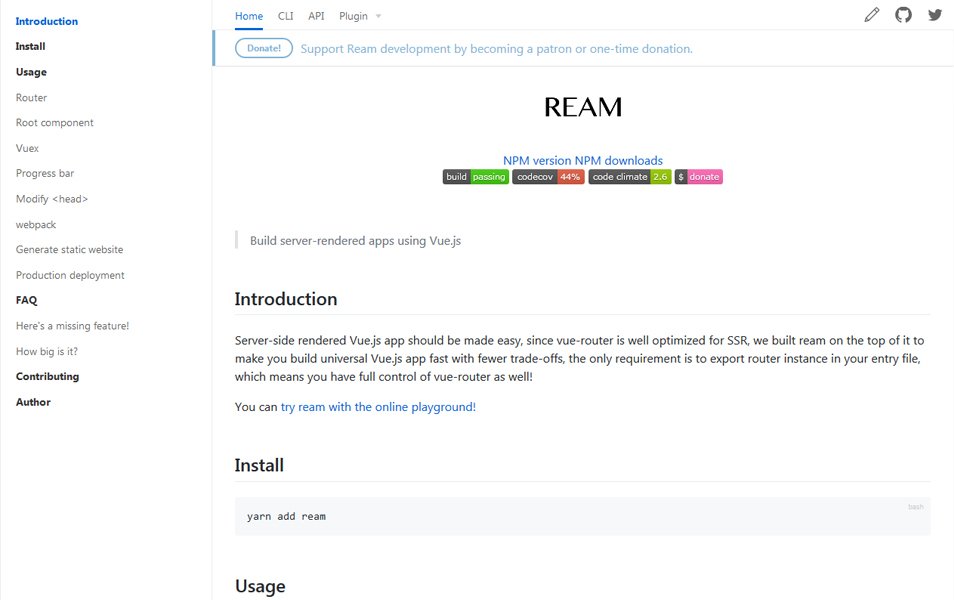 Server-side rendered Vue.js app should be made easy, since vue-router is well optimized for SSR, we built ream on the top of it to make you build universal Vue.js app fast with fewer trade-offs, the only requirement is to export router instance in your entry file, which means you have full control of vue-router as well!
Eureka
Eureka is a fast, simple and flexible blog framework, powered by Vue.js and Node.js.
DeepReader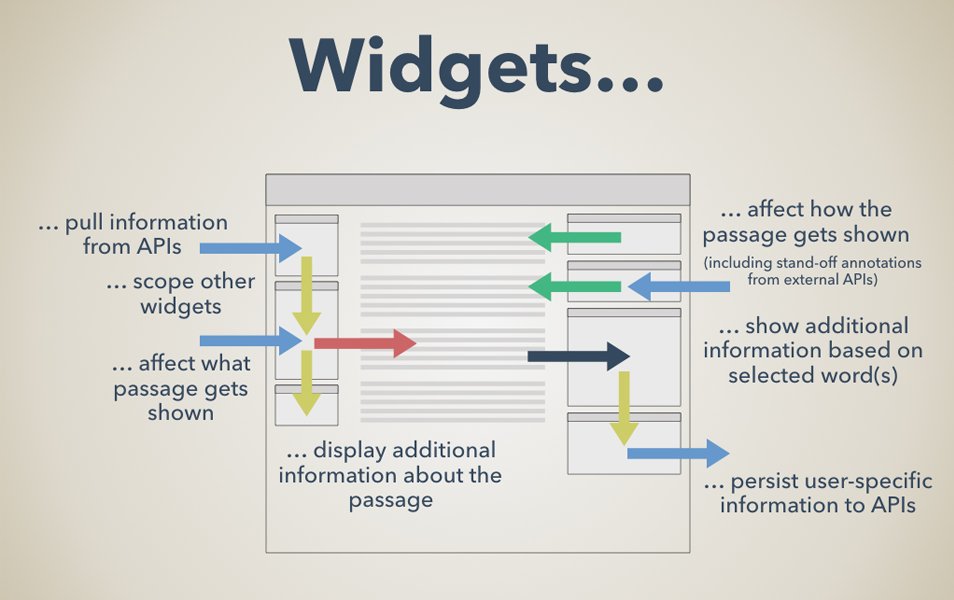 DeepReader is a highly modular, Vue.js-based framework designed for building online reading environments for deep reading of texts with rich annotations and integrated learning tools.
JTaro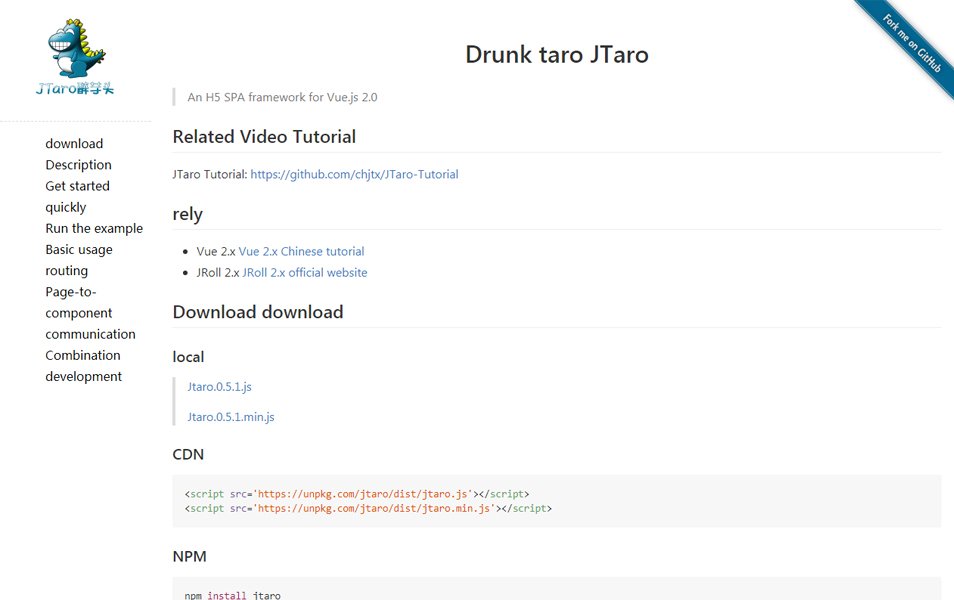 An H5 SPA framework for Vue.js 2.0